One of the promising areas of work of MKC Group of Companies is the implementation of projects for the construction of low-tonnage plants for the production of liquefied natural gas. The main preconditions for the development of such projects in Russia is the presence of a large number of gas fields within walking distance, which are not of interest for industrial production, but can ensure the interests of local consumers. The low gas cost in such fields allows to get a positive economy on the nearest infrastructure projects.
WORLD-
CHANGING
TECHNOLOGIES
---
When implementing projects for the construction of low-tonnage LNG plants, MKC Group of Companies performs all works "turnkey": from engineering surveys, design, equipment supply to construction, installation, commissioning and hand over into operation. The project is implemented by the technology of block-modular construction. The facility meets all the requirements of the industry, has a high degree of automation and is characterized by a simple and efficient work scheme.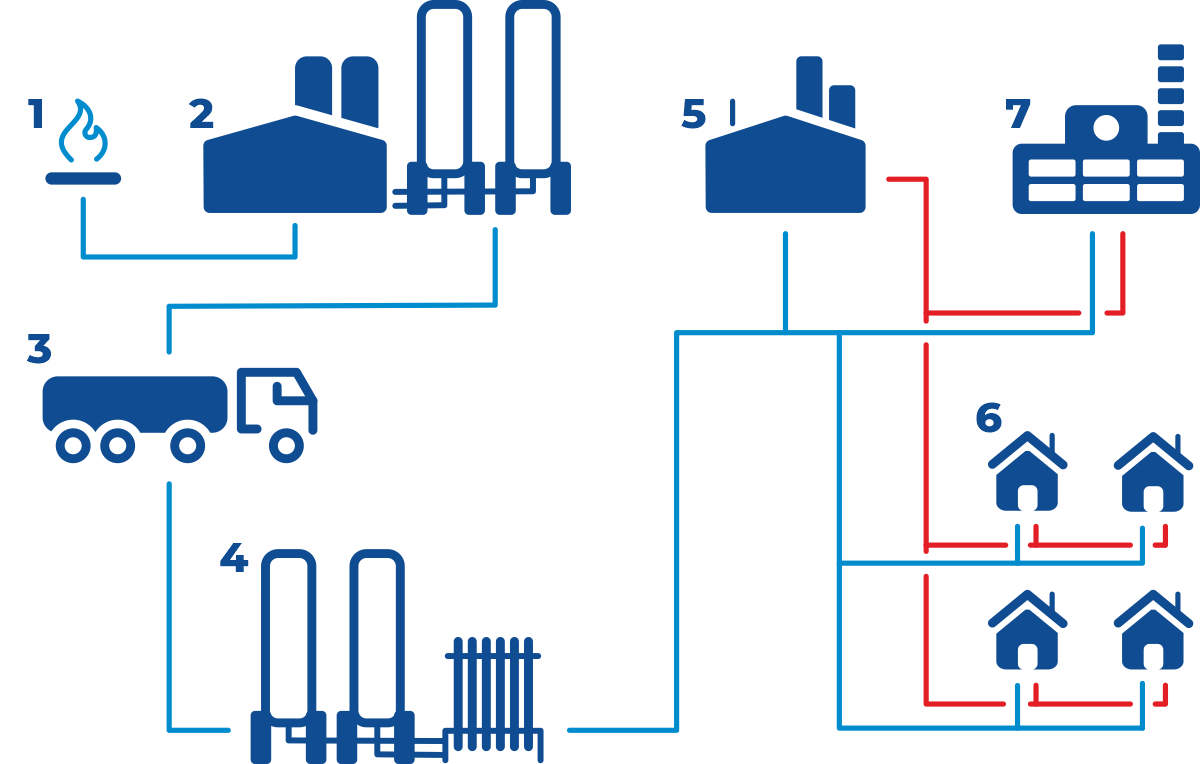 Mini-Natural Gas Liquefaction Plant
LNG Storage and Regasification Park
A low-tonnage LNG plant is installed in close proximity to the gas field
Produced LNG is transported from the plant to the storage and regasification park
Optionally, it is proposed to install its own gas genset power plant to produce low-cost electricity for its own needs, as well as for the domestic and industrial needs of third parties located nearby.
General scheme of LNG production (option):
The raw gas (NG) coming from the treatment unit is cooled in refrigerators. Propane is used at different pressure levels in each of the refrigerators (TO-1..TO-3), allowing the raw gas to cool to a temperature of about – 35 C.
Pre-cooled natural gas and separated in the separator (E-1) from heavy hydrocarbons is fed into the main cryogenic heat exchanger (TO-4), where it is further cooled, liquefied and supercooled in the warm and cold sections of the heat exchanger, after which the gas enters the instantaneous evaporation tank.
Advantages of low-tonnage LNG production:
Low-tonnage LNG projects increase the availability of gas to regions, provide greater flexibility and speed through access to multiple sources of raw materials and do not need to include extraction and processing in one project.
A small-tonnage enterprise can be realized in 6-12 months. This is significantly less time for the implementation of a major project.
The small volume of gas required for liquefaction allows the production to be placed almost anywhere. The construction of such an industrial facility does not require mandatory access to deep-sea ports.
Unlike a large-tonnage enterprise, the segment of low-tonnage LNG has no technological dependence. This allows to optimize capital expenditures and minimize sanctions risks.
Low-tonnage LNG is used as a gas engine fuel in mining, in autonomous gasification, distributed heat and power generation projects.
Sufficiently high quality for production in small volumes, low initial investments in absolute values make these projects attractive for both customers and investors.
Prospects for the development of low-tonnage LNG projects
Today in Russia there are 11 low-tonnage plants for the production of liquefied natural gas with a total capacity of about 100 thousand tons. It is planned to increase the capacity of small LNG plants 4 times by 2025 to more than 400 thousand tons per year. This follows from the Roadmap for the development of the low-tonnage LNG market, which was approved by the Government of the Russian Federation. It is also planned to expand the use of LNG as a fuel for transport. Primarily, for agricultural and road building equipment, as well as road, rail and water transport.
Development plan for low-tonnage LNG production and gas refuel infrastructure at LNG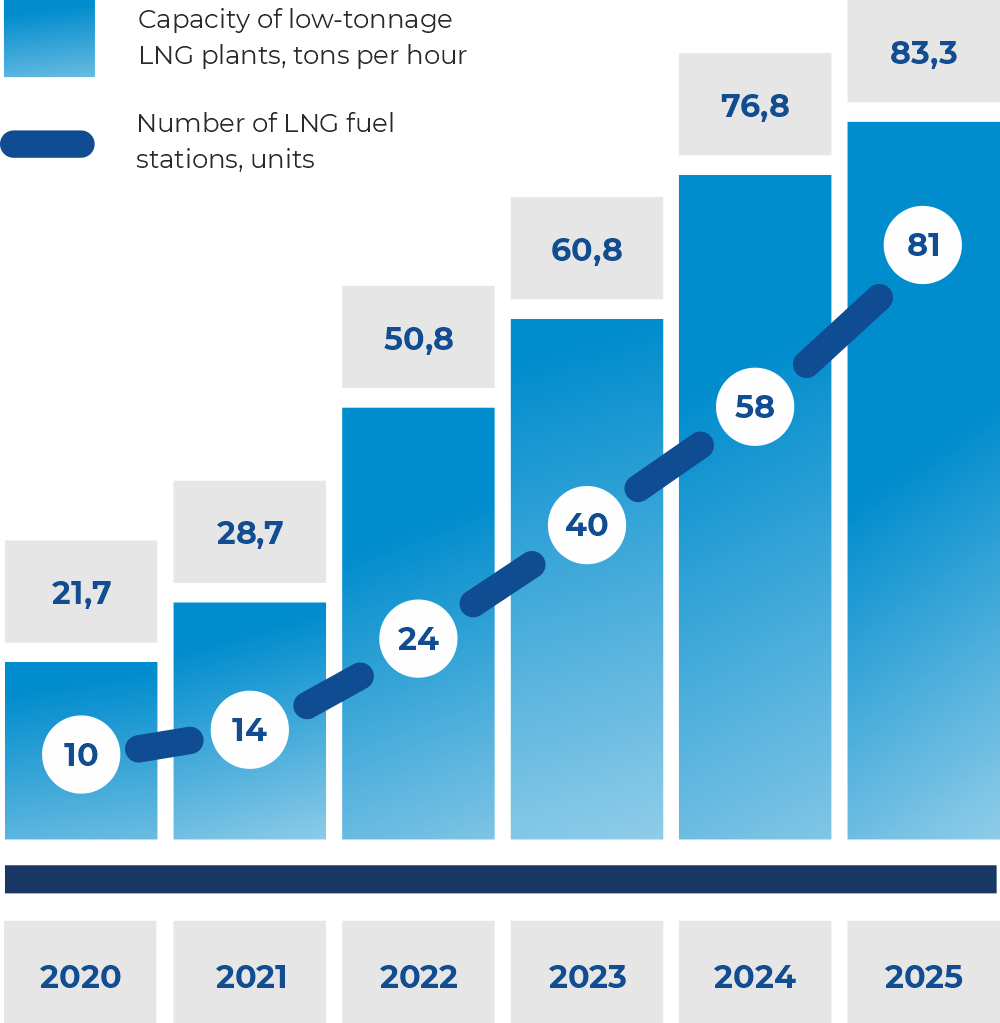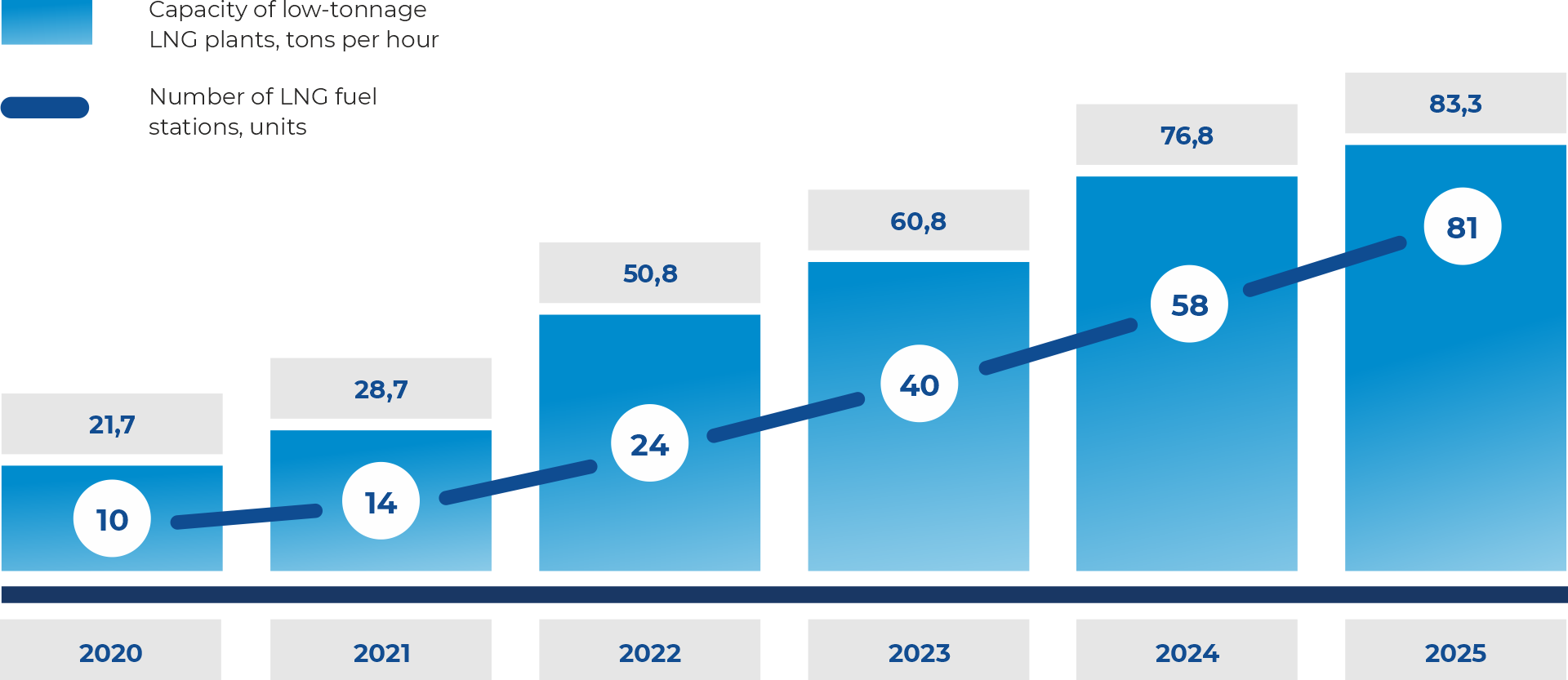 The main advantages of these projects performed by MKC:
Development and implementation of projects of compact mobile low-tonnage plants is carried out on its own
There are technologies, own production, engineering, service
Terms of projects implementation of compact mobile low–tonnage plants - 6-12 months
LNG is the optimal fuel for remote and isolated consumers
Profit sales of LNG and electricity from own gas power plants
The cost of LNG is 6-7 rubles per 1 nm3
LNG can be sold as gas engine fuel for 18-22 rubles per 1 nm3
IRR projects more than 30%