Energy centre for a logistics hub
In 2014, the MKS Group of Companies has launched an autonomous energy centre for the distribution center of the CJSC «Tander» (retail network «Magnit») in Pervouralsk (Novoalekseevsky village) of the Sverdlovsk region. The electric capacity of the facility is 2,4 MW, and the thermal capacity is 12,5 MW. Based on the industry expert estimates, in 2014 this object became the winner of the International Award «Distributed Power Generation – Great Achievements» in the nomination «Best distributed power generation object with a capacity up to 5 MW.»
The gas genset station has become a clear example of an energy-efficient solution for the heat and power supply to distribution centres. The mini-MPP used the most advanced technologies and modern equipment, which allowed to achieve maximum reliability, economy and environmental friendliness of its work. The construction period took 4 months (September-December 2014).
The following equipment was used as the main cogeneration equipment:
Three MWM TCG 2016 V16 600 kW each;
Four genset heat recovery systems 855 kW each;
Viessmann 3000 kW peak hot water boiler equipped with a combined burner;
Viessmann 6000 kW peak hot water boiler equipped with a combined burner.
Electric power generation is a priority for the energy centre operation. Heat power generation is proportional to the genset load degree to the amount of generated electric power and may vary during the plant's operation within 30 to 100%. Lack of thermal energy is compensated for by the water-heating boilers.
Mini-MPP operates in a cogeneration mode, thanks to which the total efficiency reaches 90%, providing best economy fuel consumption. Natural gas is used as a fuel. At that, energy centre operates in a parallel mode with an external network.
Economists estimate that autonomous MPP has become a suitable solution for a large distribution centre such as the «Magnit» retail network. The energy savings achieved by its own mini-MPP are significant. After the power plant launch the price for electricity decreased threefold. Heat, as a by-product, is received free of charge. The payback period of the facility is about 3 years.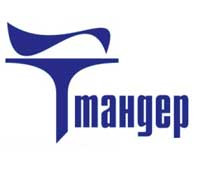 «Tander» JSC
Russian retail company.